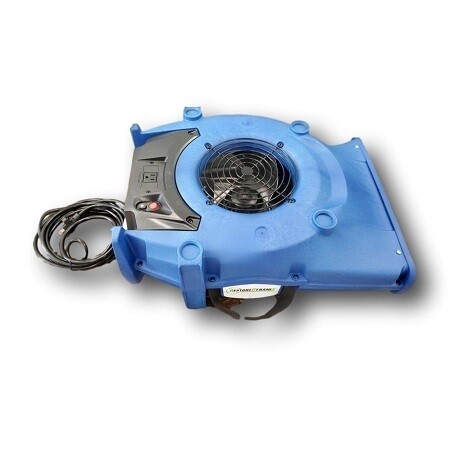 RDX Low Profile Airmover 1000cfm
1000429
Product Details
RDX-1000 Air Mover
**Call us direct for volume discounts at 800-909-3590**

Over 41% Smaller and 37% Lighter -Get All the Drying Power of a Traditional Snail Shell in an Ultra-Compact Package! - The Restore Dynamix RDX-1000 features compact, stackable housing that will free up more space on your truck and even allow you to transport TWICE as many air movers to the job site!
Features:
Lightweight, Space-Saving Design
At only 8.6" tall and weighing just 16.5 lbs, the RDX-1000 is over 41% smaller and 37% lighter than traditional snail shell air movers. You can comfortably transport 6 of these high-performing units on a hand truck as opposed to just 3 centrifugal air movers. Even among other low-profile units, the RDX-1000 is unmatched in its space-saving design. This unit is over 7% smaller and 21% lighter than competing models.
The RDX-1000 draws just 2.0 amps while producing a high rate of airflow to accelerate evaporation. This unit is a great choice for water damage restoration jobs where powerful air movement is required. It can also be used in janitorial settings as a floor dryer after mopping or finishing.

Power Plug with Circuit Indicator Light
Here's a great feature for restoration pros: the power cord features a built-in indicator light at the plug letting you know the circuit is active. Identifying blown circuits and bad outlets have never been easier!

Easy to Carry, Easy to Store
The RDX-1000 features a built-in handle for easy transport, so you can comfortably carry it around the job site. The secure stackable design prevents the units from sliding around, minimizing damage to the unit or vehicle and preventing injury to the user.
At only 68 dB, the RDX-1000 is no louder than the average vacuum cleaner, making it an ideal choice for janitorial professionals who need to speed-dry floors in occupied areas after mopping or finishing.

The housing is made from injection-molded polyethylene—it's extremely durable and tough enough to handle daily use on rough jobs.
Specifications:
Weight: 16.5 lbs
Dimensions: 19.5" D x 17.6" W x 8.6" H
Amp draw: 2.0 amps
Motor size: 1/4 HP
Power: 115V / 60 Hz
Sound level: 68 dB
Cord length: 15 ft
Save this product for later
CONTRACTOR PRICING
We always strive to offer the most competitive pricing in the industry. Excel pride's ourselves on our ability to meet demand, product availability, service and support, and competitive pricing.  If you are buying in bulk we offer competitive pricing to meet your needs.  You can reach out to any of our commercial sales leaders by calling 800.909.3590.