Humidity and Temperature Pen Hygrometer by Extech
445580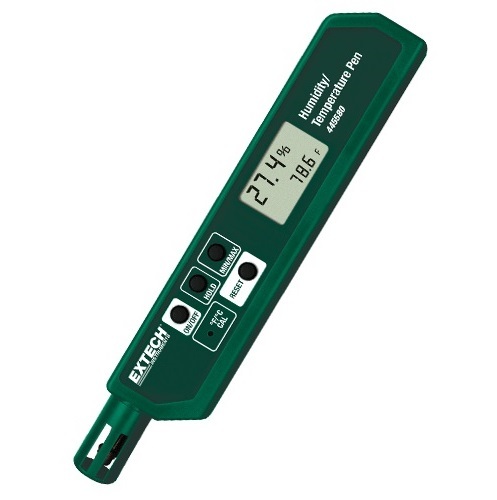 Compact, Digital Hygro-Thermometer, ideal for field use
Take this this handy humidity and temperature gauge on the go and rely on a long-lasting 3V lithium battery for maximum usage time. This slim measuring tool will capture humidity readings from 10 to 90% RH and register temperatures from 14° to 122° (-10 degrees to 50°). It's an ideal tool for field work and a nice accoutrement for outdoor lovers. This utility tool will store maximum and minimum readings until the memory is cleared and includes a data-hold button for rapidly fluctuating measurements. Includes meter with pocket clip and 3V lithium battery.
Features:
Simultaneous display of Temperature (°C/°F) and Relative Humidity
Max/Min and Data Hold
Built-in self calibration utility allows for field calibrations using optional Relative Humidity calibration bottles
Includes meter with pocket clip and 3V lithium battery
We always strive to offer the best pricing on vehicles and equipment, but even with the best prices, equipment is still costly. Knowing that we have partnered with the best of the best in commercial lending, giving you plenty of options when it comes to financing so that you are able to get what you want at payments you can afford. Unlike some dealers, we are not tied to any one particular lender and have options for every kind of business model and credit history to ensure you get approved for whatever it is you need.