FLIR MR55 Pin Moisture Meter with Bluetooth
MR55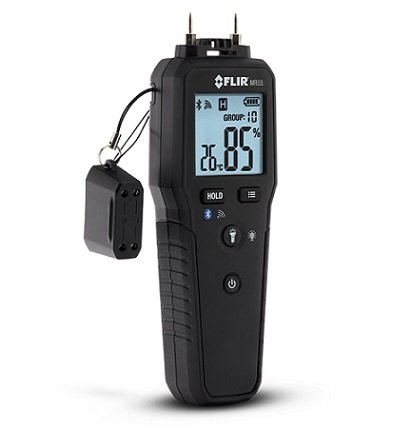 Pin Moisture Meter with Bluetooth
The FLIR MR55 is a pin-based meter with wireless connectivity, which offers the convenience to view readings from a mobile device via the FLIR Tools® Mobile app. Thanks to a built-in library of 11 material groups, users can tune the meter to the appropriate test material to improve measurement accuracy. This library is easy to access on the FLIR.com website by scanning a QR code on the back of the meter with a mobile device.

TAKE ACCURATE MEASUREMENTS

Test from 11 material groups with pin probes. Measurements automatically compensate for ambient temperature.

OPTIMIZE YOUR WORKFLOW

Use Bluetooth® to view readings from a mobile device.

INSPECT ANYWHERE WITH EASE

Features replaceable electrode pins, standard AA batteries, a back-lit display, and a bright work-light to help make your job seamless.
We always strive to offer the best pricing on vehicles and equipment, but even with the best prices, equipment is still costly. Knowing that we have partnered with the best of the best in commercial lending, giving you plenty of options when it comes to financing so that you are able to get what you want at payments you can afford. Unlike some dealers, we are not tied to any one particular lender and have options for every kind of business model and credit history to ensure you get approved for whatever it is you need.