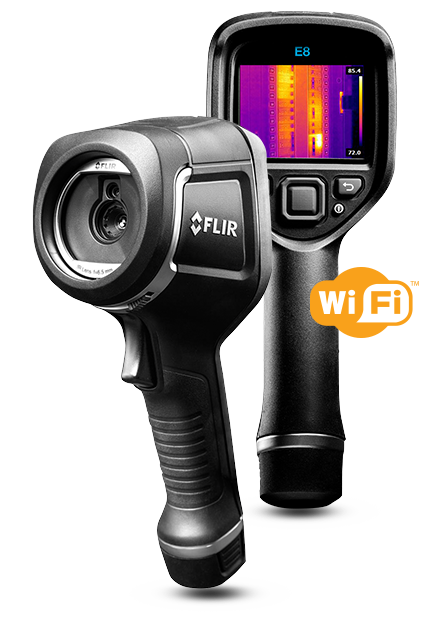 FLIR E8-XT Thermal Imaging Camera by FLIR
E8-XT
Product Details
Flir E8-XT Infrared Camera with MSX
[tab name="Camera Detials"]
FLIR E8-XT is the perfect tool for diagnosing electrical, mechanical, and building problems, thanks to its 76,800 (320 x 240) pixel infrared detector and expanded, -20°C to 550°C (-4°F to 1022°F) temperature range. FLIR MSX® image enhancement provides extraordinary thermal imaging detail, while the built-in Wi-Fi allows users to quickly connect with the FLIR Tools® Mobile app for sharing images and sending reports easily from any location. (FULL DETAILS HERE)
WI-FI CONNECTIVITY

Upload images and data to the FLIR Tools app over Wi-Fi, for instant sharing and reporting.

SUPERIOR RESOLUTION

With its outstanding 76,800 pixel detector and ±2% accuracy, the E8 offers best-in-class image clarity.

THE POWER OF ONE BUTTON

A focus-free lens and simple button navigation to on-screen settings makes this camera easy to operate.
[tab name="FLIR E8 Specifications"]

Detector Type
Uncooled microbolometer
IR Resolution
320 × 240 pixels

Field of View
45° x 34°
Packaging Size

(15.2 x 6.5 x 12.4 in.)


CONNECTIONS & COMMUNICATIONS
Interface

USB Micro: Data transfer to and from PC and Mac device
WiFi

Peer-to-peer or network


ENVIRONMENTAL
Emissivity table/correction

Emissivity table of predefined materials/variable from 0.1 to 1.0
Encapsulation/Drop

IP 54 (IEC 60529)/2m (6.6 ft.)


IMAGING & OPTICAL
Camera weight incl battery

0.575 kg (1.27 lb.)
Color palettes

Black & white, iron, and rainbow
Display

3.0 in. 320 × 240 color LCD
Focus

Focus free
Image Adjustment

Automatic/Manual
Image Frequency

9 Hz
Image Modes

Thermal MSX®, thermal, picture-in-picture, thermal blending, digital camera
Minimum Focus Distance

0.5 m (1.6 ft.)
Multi Spectral Dynamic Imaging (MSX)

IR image enhanced with visible camera detail
Picture-in-Picture

IR area on visual image
Digital Camera Resolution/FOV

640 × 480/55° × 43°


MEASUREMENT & ANALYSIS
Accuracy

±2°C (±3.6°F) or ±2% of reading, for ambient temperature 10°C to 35°C (+50°F to 95°F) and object temperature above +0°C (+32°F)
Object Temperature Range

–20°C to +250°C (–4°F to +482°F)
Spot Meter

Center spot; box with min./max.
Thermal Sensitivity/NETD

<0.06°C (0.11°F) / <60 mK


POWER
Battery type & operating time

Rechargeable 3.6 V Li ion battery; approx. 4 hours typical use


STORAGE MEDIA
File Formats

Standard JPEG, 14-bit measurement data included
[tab name="Video"]
[tab name="About MSX Technology"]
The E8 features FLIR's unique MSX that adds key details from the on-board visible light camera to the entire infrared image in real time. The result: an all-in-one, undiluted thermal picture with visible light features that lets you instantly recognize where the problematic heat pattern is. MSX is real time so you can see its results immediately in the camera's LCD.
[endtab]
Save this product for later
FLEET VEHICLES
We always strive to offer the best pricing on vehicles and equipment, but even with the best prices, equipment is still costly. Knowing that we have partnered with the best of the best in commercial lending, giving you plenty of options when it comes to financing so that you are able to get what you want at payments you can afford. Unlike some dealers, we are not tied to any one particular lender and have options for every kind of business model and credit history to ensure you get approved for whatever it is you need.