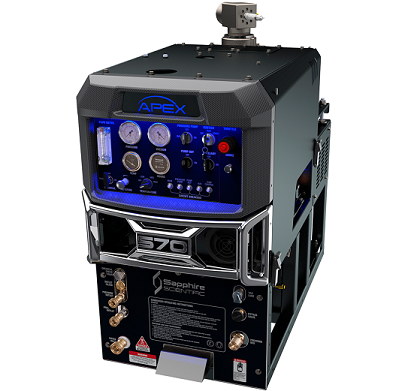 APEX 570 w/ 120gl Waste Tank by Sapphire Scientific
106570
Product Details
Apex 570 Truckmount by Legend Brands - 120gl Waste Tank
New Cerakote ceramic coating lowers the heat radiation on all exhaust components by more than 30% to reduce component fatigue and extend your truck mount life—plus keep the van interior cooler! Powered by a liquid-cooled 31 HP Kubota gasoline engine, the Apex 570 uses the patented Sapphire Scientific triple-source thermal well system to deliver maximum consistent heat. Features a sleek new design and the superior performance you expect from Prochem and Sapphire!
---
Specifications:
POWER PLANT:

Kubota WG972 31 HP liquid-cooled cast iron gasoline engine operating at 3000 RPM

VACUUM PUMP:

Gardner Denver tri lobe HeliFlow® HF408 helical positive displacement blower. Vacuum at 13 in. and flows up to 455 CFM.

SOLUTION PUMP:

General HTS2016S producing up to 1500 PSI and 5 GPM at 1500 RPM

WASTE TANK: 120

gal. marine grade aluminum. Optional: 90 gal. high capacity waste tank

LEGEND REWARDS: 15,000 points
---
Features:

Quieter Helical Tri-Lobe HF 408 Blower produces less vibration and ensures better dry times
Through-frame drive belt cooling significantly reduces downtime by extending belt life

Cerakote ceramic coating on the exhaust system minimizes heat and extends the components' service life

The patented thermal well design incorporates a tube-and-shell heat exchanger to maximize heat transfer from the engine to the solution.
Easy-to-remove access panel and side hoods allow for quick service
Narrowest liquid-cooled slide-in on the market.
---
Package Includes:
150' - 2" Vacuum Hose
100' - Solution Hose
50' - Solution Hose
50' - Low-Pressure Supply Hose
14" Low Profile 6-Jet Titanium Wand
5 Gallon Chemical Jug
90 or 120 Gallon Waste Tank
Save this product for later
CONTRACTOR PRICING
We always strive to offer the most competitive pricing in the industry. Excel pride's ourselves on our ability to meet demand, product availability, service and support, and competitive pricing.  If you are buying in bulk we offer competitive pricing to meet your needs.  You can reach out to any of our commercial sales leaders by calling 800.909.3590.