17" Floor Stripping Pads (Select Type)
17-Stripping Pads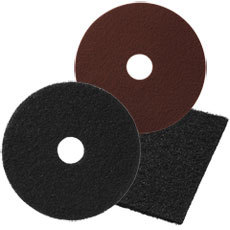 17" Floor Stripping Pads
Dominator: Extra aggressive stripping pad for heaviest duty stripping tasks. Fast removal of multiple layers of floor finish. Recommended for us on a machine up to 350 rpm.
HP500: Heavy duty stripping pad for touch stripping applications. Aggressive removal of burnished floor finish. Recommended for use on machines up to 350 rpm.
Black: Very aggressive stripping pad. Used on wet floor applications with an aggressive removal of dirt and old finish buildup. Recommended for machines up to 350 rpm.
Select Pad Size
17" (0) 20" (0.8)
We always strive to offer the best pricing on vehicles and equipment, but even with the best prices, equipment is still costly. Knowing that we have partnered with the best of the best in commercial lending, giving you plenty of options when it comes to financing so that you are able to get what you want at payments you can afford. Unlike some dealers, we are not tied to any one particular lender and have options for every kind of business model and credit history to ensure you get approved for whatever it is you need.