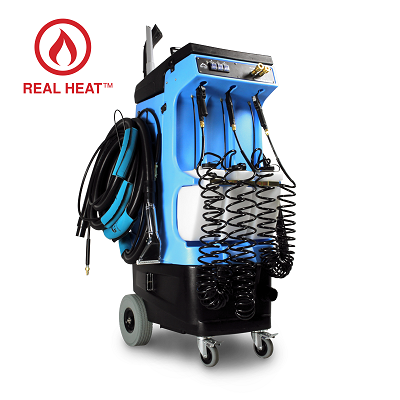 Prep Center S™ with Heat by Mytee
80-120
Product Details
Auto Detail Prep Center by Mytee
The new Prep Center S™ from Mytee is the next chapter in our revolutionary Prep Center series. The newly redesigned chassis makes the Prep Center S™ slimmer and more mobile than its predecessors, without compromising functionality. In fact, we gave it Even More Capacity! With its all-in-one design and intuitive features meant to maximize efficiency, the Prep Center S™ will have you doing laps around your competition, not your shop!


Includes:
8400P Air Lite™ Upholstery Tool
25′ vacuum & solution hose combo
25′ dry vacuum hose
Dry vacuum claw
Dry vacuum crevice tool
Blower attachment tool
Features:



12 gallon (approx.) solution and recovery tanks.
3-stage low amp vacuum motor, 100 CFM, 130" water lift.
120 PSI viton-sealed solution pump.
Exclusive REAL HEAT™ system produces hot water using a 1,200-watt in-line heating system with a maximum temperature of 210˚ F.
Convenient faucet fill hose.
Wet and dry vacuum capability.
Interior and exterior drying capability, complete with attachments.
Contains tool organization and storage including a tray to keep tools in order and easily store them after each job.
Multiple chemical dispensing with three bottles powered by a shop air compressor and a 25′ coiled hose with adjustable gun for each bottle.
Durable roto-molded polyethylene material which resists rust and denting.
When it comes to your automotive detailing business; choose a proven winner. Out pace the competition. Order an 80-120 Prep Center S™ now!
See More HERE
Save this product for later
CONTRACTOR PRICING
We always strive to offer the most competitive pricing in the industry. Excel pride's ourselves on our ability to meet demand, product availability, service and support, and competitive pricing.  If you are buying in bulk we offer competitive pricing to meet your needs.  You can reach out to any of our commercial sales leaders by calling 800.909.3590.