North P100 Soft Filter Pack
1000168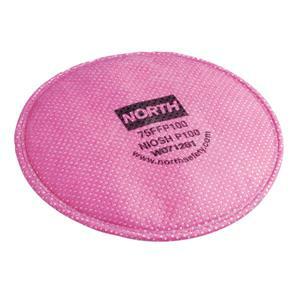 P100 Pancake™ Filter with Organic Vapors/Acid Gas/Ozone Odor Relief - 2/Pack

The North Pancake filters are flexible, low profile P100 filters specifically designed to fit under most welding helmets and face-shields. Filters attach directly to the face-piece cartridge connectors, or onto a chemical cartridge using the N750035 Adapter. The adapter may be purchased separately or as a complete assembly with 75FFP100 Pancake filters.
Certification:
NIOSH Approved for use with North 5500, 7700, 5400 and 7600 Series face-pieces. Filters may be used alone, or in conjunction with North chemical cartridges (except 75SC) with the N750035 adapter. Refer to the NIOSH Approval Labels for the specific NIOSH Approval Numbers.
Protection Type:
The North Pancake filters are classified P100 as defined by NIOSH 42 CFR Part 84, and are 99.97% efficient against all particulates, including those that contain oil based aerosols. The 75FFP100NL filter also offers odor relief from nuisance levels of organic vapors, acid gases and ozone. Nuisance levels are defined as concentrations below the OSHA Permissible Exposure Limit (PEL). Make sure your North respirators maintain the protection level you chose when you purchased them. Be sure to use these North filter and cartridge replacements.
For use with North 7600 and 5400 Series Full Facepiece and Half Mask Respirators
Recommended for respiratory protection against nuisance level Organic Vapors, Chlorine, Sulfur Dioxide, Chlorine Dioxide, Hydrogen Fluoride, Hydrogen Sulfide
We always strive to offer the best pricing on vehicles and equipment, but even with the best prices, equipment is still costly. Knowing that we have partnered with the best of the best in commercial lending, giving you plenty of options when it comes to financing so that you are able to get what you want at payments you can afford. Unlike some dealers, we are not tied to any one particular lender and have options for every kind of business model and credit history to ensure you get approved for whatever it is you need.