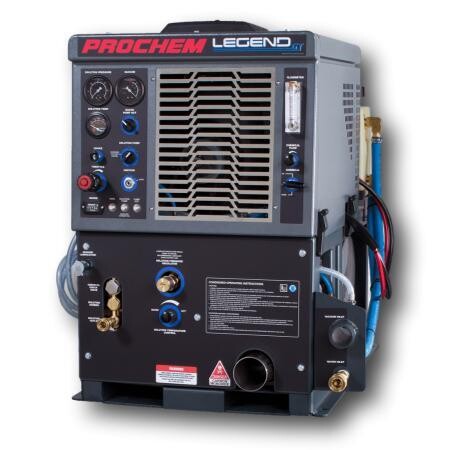 Legend GT Truckmount by Sapphire - 90gl Waste Tank
117579
Product Details
Legend GT Truckmount
Building on Legend's proven track record, this unit delivers even better performance and longer life with a single-stage finned tube exhaust heat exchange, a corrosion-resistant aluminum frame, and an engine oil cooler. All exhaust components are treated with Cerakote ceramic coating to reduce truckmount operating temps.
Features:
Front panel waste pump-out switch. Convenient - operate optional waste pump-out from the front of the machine.
Simplified control panel. Easy to operate. The front lower panel can be removed quickly for maintenance.
Stainless steel chemical pump. Durable chemical pump resists corrosion to provide long service life.
Pulse isolating hose reduces vibration caused by the piston water pump.
Last step chemical injection. Cleaning chemicals are added just as the water leaves the machine, helping to protect the water pump.
---
Specs:
Engine: Kohler Command 0.67 L gasoline engine with oil cooler
Displacement Blower: Gardner Denver 4MVL positive displacement blower
Solution pump: General water pump producing up to 1200 PSI and 3.5 GPM
Dimensions:
Console (W × H × D): 32 × 33 × 39.5 in. | 81 × 83.8 × 100cm
---
Includes:
Console with removable shrouds
Waste tank with automatic shut-off
100 ft. - 2" vacuum hose with connectors
50 ft. - water supply hose w/ quick connect
12" Low Profile 4-jet titanium wand (67-082) and Glide (67-085)
5-gallon chemical jug and holder
Group 24 battery box (battery not included)
Vehicle-specific fuel installation kits are sold separately
All units include Legend Reward points. End customers must establish a rewards account and register their machine for warranty online to receive points.
Save this product for later
CONTRACTOR PRICING
We always strive to offer the most competitive pricing in the industry. Excel pride's ourselves on our ability to meet demand, product availability, service and support, and competitive pricing.  If you are buying in bulk we offer competitive pricing to meet your needs.  You can reach out to any of our commercial sales leaders by calling 800.909.3590.