Hawk RedTail Orbital Floor Machine - 1725rpm
F98-RT180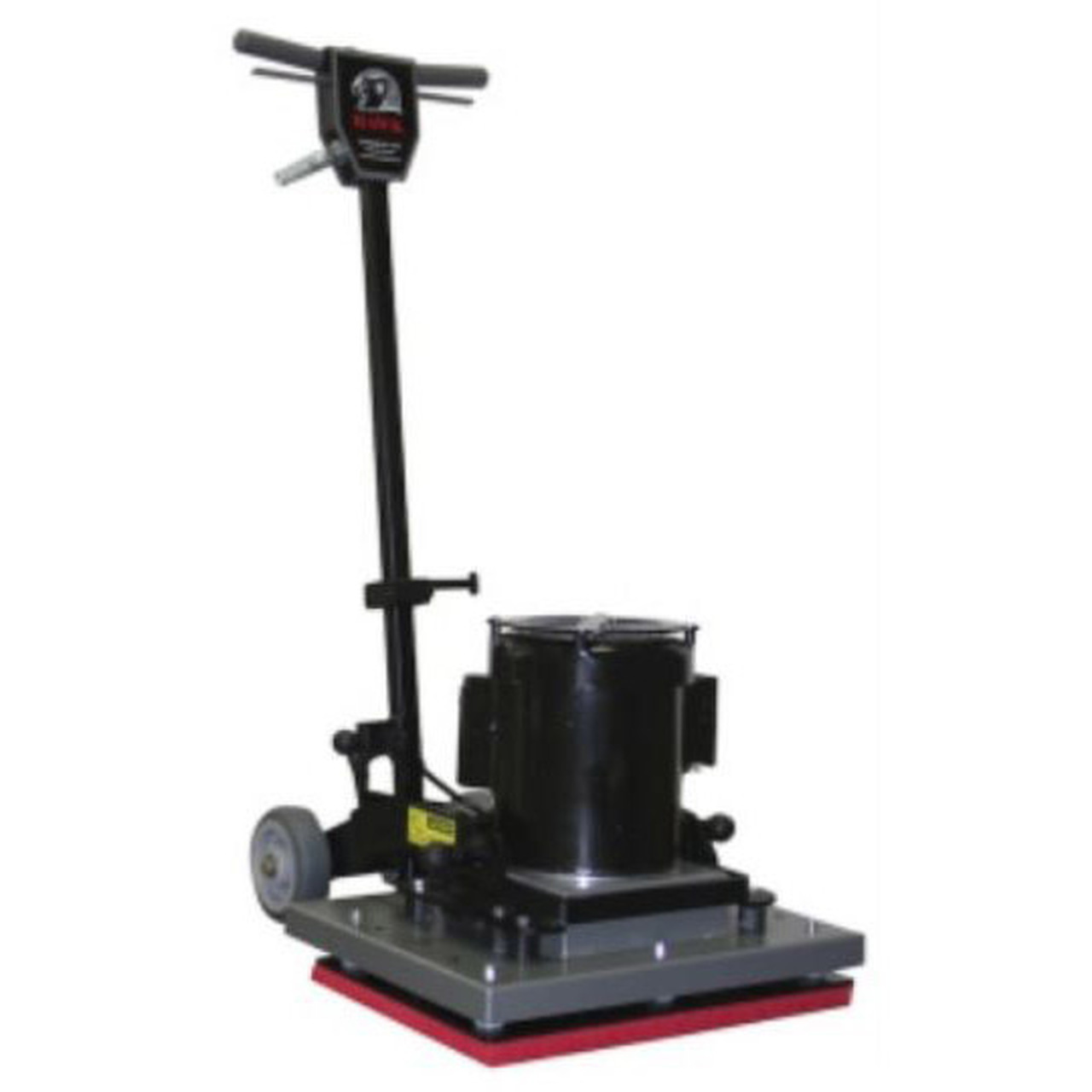 RedTail Orbital Floor Machine by Hawk
The RedTail 2014-180 is great for surface preparation and deep cleaning of any hard surface. Strip large areas of floor finish with or without chemicals. Excellent for surface refinishing, scrubbing ceramic tile and grout, sanding wood and stone polishing. Easy to learn and operate by any personnel, experienced or new.
Our unique WDTM Wheels Down "Floating Head" design provides 100% pad contact on the floor. 12 severe-duty isolators absorb vibration and reduce operator fatigue. Exclusive 2" rear dust plenum maximizes dust collection via vacuum. Total unit weight is 171 lbs.
Power:
• 1.5 HP, 60 Hz, 180 frame, TEFC dual capacitor AC motor.
• 115-230V, 60 Hz
• 50 ft . 14-3 commercial power cord
Drive System:
• Eccentric balanced orbital drive works at 1740 RPM
• Direct drive balanced eccentric w/sealed bearing
• 6 primary isolators and 6 secondary isolators
Engineering Design:
• WDTM Wheels Down Floating Head allows full pad
contact with the floor
• HD powder-coated steel handle with 5-posion pin-
set lock. Easy to remove for transport & storage.
• Thumb operated safety switch. Dual teel operating triggers.
• Negative pressure on/off switch
• 2" x 6" non-marking ball bearing wheels
• Optional dust control kit #HP0031-DC-TIGER
• Optional vacuum and dust control kit #TH1011-RT
• Optional 4 Gallon Solution Tank #A0001-NAT4-QRGF
We always strive to offer the best pricing on vehicles and equipment, but even with the best prices, equipment is still costly. Knowing that we have partnered with the best of the best in commercial lending, giving you plenty of options when it comes to financing so that you are able to get what you want at payments you can afford. Unlike some dealers, we are not tied to any one particular lender and have options for every kind of business model and credit history to ensure you get approved for whatever it is you need.