Flojet 95psi Pump - 1.6 GPM
AP24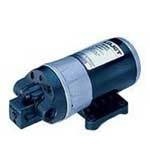 Flojet Pump 100psi Demand/by-pass
Flojet model 2130-517 - 95psi 1.6gpm maximum flow, 115VAC 1.20amp, Demand switch with limited internal bypass, EPDM valves, EPDM diaphragm, 1/4" NPT Female ports - chemical resistant pump for carpet & upholstery extraction.

Repair parts:
Motor - PF02029-021
Pump Upper Housing/Switch Assembly - PF20316-060
Kit Valve Chamber - PF20028-077
Kit Bypass poppets - PF20378-013
Kit Diaphragm - PF21195-004
Pressure Switch - PF02095-115
We always strive to offer the best pricing on vehicles and equipment, but even with the best prices, equipment is still costly. Knowing that we have partnered with the best of the best in commercial lending, giving you plenty of options when it comes to financing so that you are able to get what you want at payments you can afford. Unlike some dealers, we are not tied to any one particular lender and have options for every kind of business model and credit history to ensure you get approved for whatever it is you need.