4-Prong Electrical Converter
5004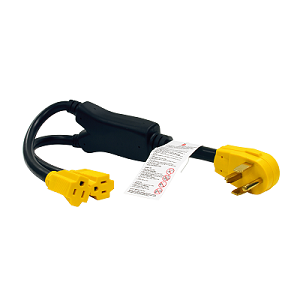 4-Prog Electrical Power Converter (230v to 115v)
Are you tired of looking for two outlets on two separate circuits to plug in your extractors, airmovers and other equipment? Save time and labor on the job with the 5004 4-Prong Electrical Converter which is designed to fit cords with 4-pronged plugs.
Features:
Doubles outlet access – Splits a single 230V, 30-amp-circuit appliance outlet into two usable 115V circuits
Prevents circuit breaker blowouts – By offering built-in circuit breaker protection
Is versatile – Works great with all Mytee® extractors, airmovers, heaters – any product with an electrical cord
Fits NEMA L14-30 Style 230V Outlets
This is an invaluable addition to any carpet cleaner's toolbox. Order yours today!
We always strive to offer the best pricing on vehicles and equipment, but even with the best prices, equipment is still costly. Knowing that we have partnered with the best of the best in commercial lending, giving you plenty of options when it comes to financing so that you are able to get what you want at payments you can afford. Unlike some dealers, we are not tied to any one particular lender and have options for every kind of business model and credit history to ensure you get approved for whatever it is you need.