25 Man First Aid Kit with Eye Wash Case
K-FAK-25P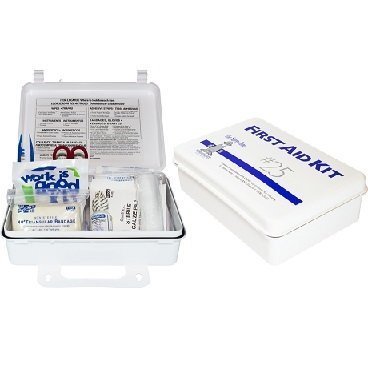 25-Man First Aid Kit with Eye Wash Case
Includes the following:
(2X) Fabric Fingertip Bandages
(2X) Fabric Knuckle Bandages
(4X) 3" X 3" Gauze Pads
(1X) 4" Gauze Pad
(1X) Large Wound Pad
(1X) 1/2" Adhesive Tape
(4X) Latex Exam Gloves
(1X) 1 Fl Oz Eye Wash Solution
(1X) First Aid Guide
(1X) Plastic Case W/ O-Ring
(20X) Alcohol Antiseptic Wipes
(6X) Antiseptic Towelettes
(3X) Sting Relief Wipes
(1X) Bandage Scissors
(1X) Forceps
(6X) Burn Cream Packets
(6X) Triple Antibiotic Packets
(1X) Instant Cold Pack
(1X) Triangular Bandage
(32X) Plastic Adhesive Strips
We always strive to offer the best pricing on vehicles and equipment, but even with the best prices, equipment is still costly. Knowing that we have partnered with the best of the best in commercial lending, giving you plenty of options when it comes to financing so that you are able to get what you want at payments you can afford. Unlike some dealers, we are not tied to any one particular lender and have options for every kind of business model and credit history to ensure you get approved for whatever it is you need.